No time for crafting this weekend, due to much bunny business up my sleeves and I don't mean tods!
Maximus has been exceptionally lonely and depressed since the loss of his beloved Chicky, we had to think long and hard and eventually came to the conclusion it was in Max's best interest to get him a friend. We work full time and hence he had/has noone to interact with during the weekday and this really isn't fair, as we know bunnies are sociable creatures and will normally be found in the wild in warrens.
And here we found the gorgeous Gracie - formerly known as 'Bunny'. Gracie is a 2 year old ex laboratory rabbit, she has a tiny bit of ear missing from her time in the lab and she was successfully 'saved' and rehomed from the lab, but sadly her owners had to rehome her once more as they moved abroad. Needless to say Gracie has had an exceptionally hard start to life and she deserves lots of love, cuddles, attention and a forever home with a gorgeous husbun. Gracie is a New Zealand White and a big girl, she is however the most gentle and trusting little thing, which is surprising considering what us humans have put her through in the beginning of her life. So here she is, bonding is still commencing, things so far have gone well.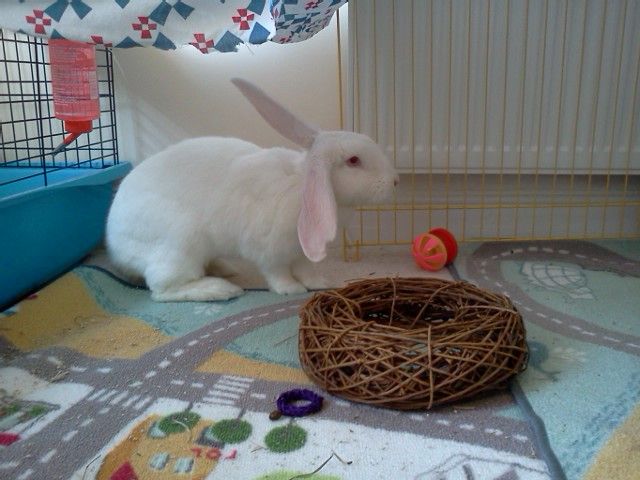 Posing!
and her Husbun to be..... (looking grumpy as usual!)
Hehe, so I've had a bunnyful weekend, no time for crafting! Hope you've had a good one!
x