So what have you got your mum? I decided to craft her a few bits...I um wrapped them before photos though! I'm silly you see!
Anywho I tried my hand at scrap-booking and my mummy now has a cute owl themed scrap-book filled with natural beauty recipes from foot scrubs, to lip scrub, to body lotion and sweet sugar rose petals to nom whilst indulging herself! I also collected and have been collecting many small glass jars of which I have used to make my mum a nutmeg and rose-petal sugar body scrub (recipe to follow and picture later..as Jay has asked that I do the same for his mum!), lastly my mum has some cute daschund earrings (she dreams of one day having a Daschund called Lumpy!)
Last Christmas I bought her this chappy (he's a doorstop) to compensate!
Talking of doggies my brother has adopted a gorgeous little Border Terrier, he's called Ronnie, is a complete loon and has the longest legs! He's just beautiful and such a happy little man! I decided to be a good 'auntie' and made his a funky bandana! Which he now wears with pride. Granted it isn't the most manly of bandanas, but it was the manliest fabric I had to hand. A new bandana with a greater 'man' status will soon follow!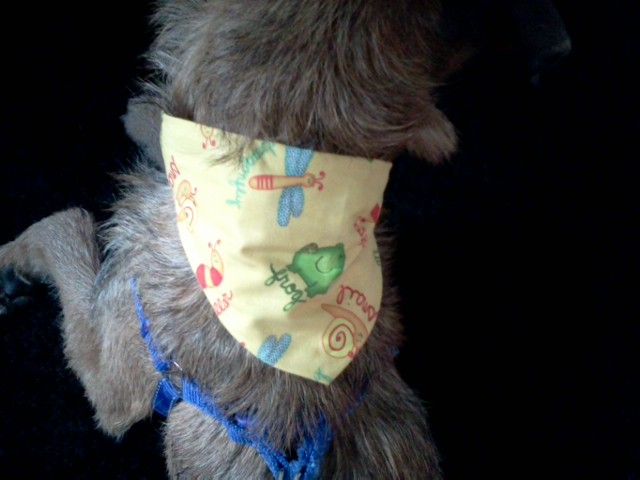 Other than that, it's Thursday and I definitely feel in the mood for a spring clean for this week or the coming week, hoping to do a carboot sale again; get rid of some bits and also raise some tasty money!
Also decided to get some earrings and such crafted for my upcoming fayre in July, albeit it is ages away, you need lots of stock with something to suit everyone! For great craft tips see here
Here are a few of the new wares I've come up with, bit more regal and reserved than my normal 'brights'.
TUTORIAL: Nutmeg and Rose Petal Sugar Scrub
1 Cup of Granulated Sugar

3 Tbsp Olive Oil

6 Fresh Rose petals

2 Tbsp Ground Nutmeg

Cute Washi Tape

Upcycled Glass Jar with lid

Scrap fabric Square

Twine/cord

Pen
Firstly Measure out the Sugar into a large bowl, add the Olive oil and stir in. The mixture should bind well and remain fairly solid, but moist.
Cut up the rose petals into strips and add to the mixture, mix in well.
Finally add the nutmeg and mix.
Make sure the glass jar is clean and odourless, decorate with washi tape and label the contents and date, the fabric square is to decorate the lid and to be attached using the cord/twine.
Add the sugar scrub mix to the jar and seel.
To use; apply to skin and massage in, wash off with warm water. Can also be used on the lips as a lip scrub as it tastes as good as it smells and the ingredients are 100% natural and edible!..although I don't advise eating as that's not the purpose of this make!
Ensure to use within 3 weeks of making.
Enjoy!
Have a great day!